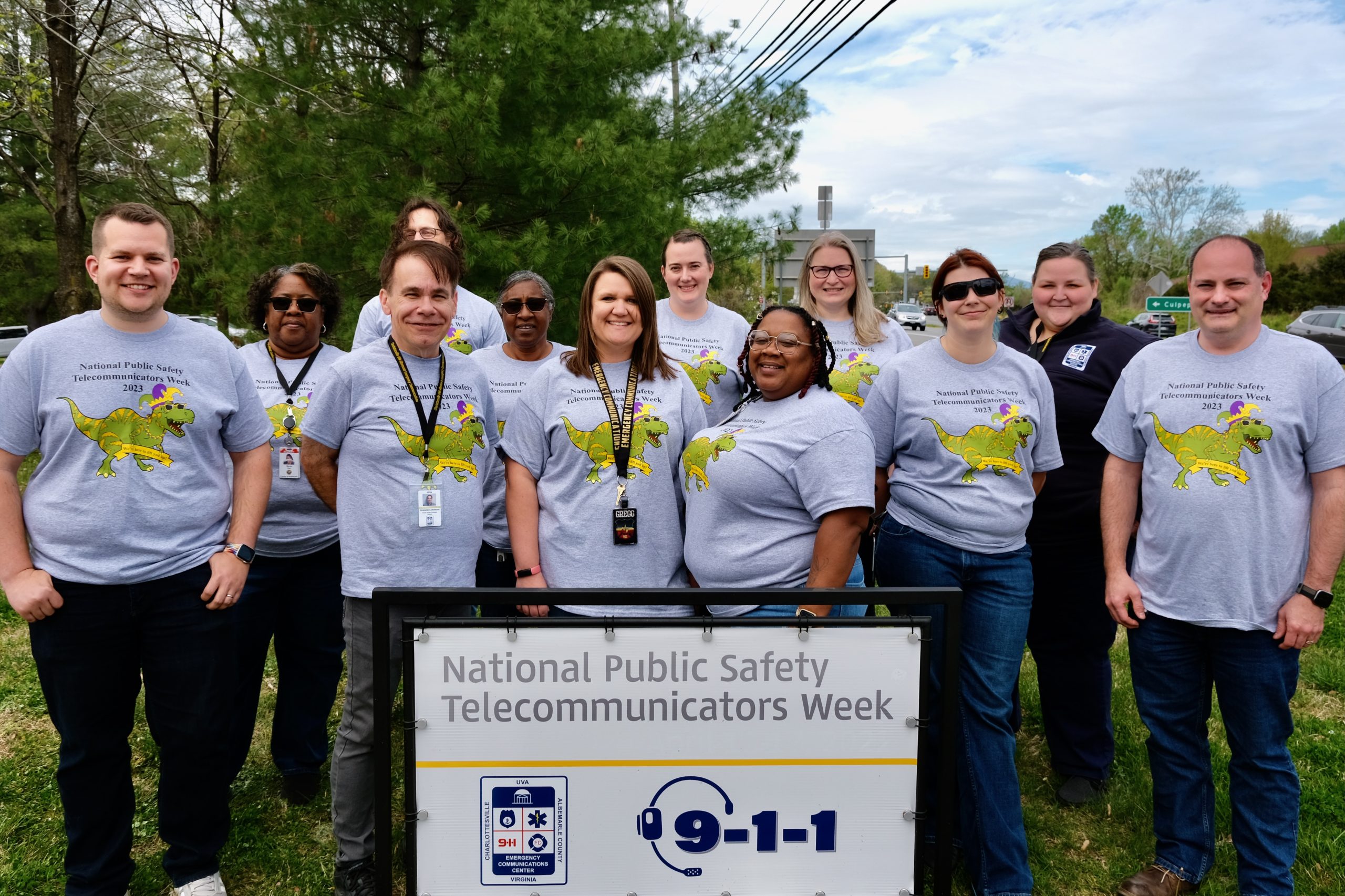 Slide
Are you looking for a new challenge?
Come work at 9-1-1!
To Apply
Interested applicants can see openings on this page and click the job title to apply online.
Benefits
The ECC is proud to offer a wide array of excellent and affordable benefit options to our eligible employees. From medical insurance to long-term disability coverage, our group and voluntary benefits programs are designed to give you peace of mind – whatever comes your way! Details can be found here.
Compensation
Starting annual salary for a new PSCO without prior 9-1-1 experience is $43,366. Our compensation program aims to attract, retain, and reward a highly qualified workforce to serve our community; additional pay and stipends are provided for shift differential, training officers, career development program participants, and incumbents with academic degrees.
Questions?
Additional details about working at the ECC are available below. If you have any questions not covered on this page, please call 434.970.1098 — we'd love to speak with you.
Hiring Timeline and Process

The total length of time from application-to-hire for a Public Safety Communications Officer varies, depending on the next available training academy, but is typically no shorter than four weeks. Applications submitted today will be evaluated for a summer 2023 academy start date.

After submitting your application online:

Complete computer-based skills testing (CritiCall – typing speed and data entry)
Complete a phone interview
Successfully complete a panel interview
Optional but encouraged: Complete a "sit-along" to observe center operations
Contingent offer extended

After receiving and accepting your offer of employment:

Complete fingerprinting and background investigation.
Complete medical and psychological examinations.
Successfully complete a 12-week basic academy, a 3-week period of working directly alongside a Communication Training Officer, and a period of mentoring/on-the-job training for skill mastery. All training is paid.
Pay Scales and Stipends

We have guidelines and policies for administering pay within the organization: the Public Safety Pay Scale for our Public Safety Communication Officers and Public Safety Communication Supervisors, and the Classified Pay Scale for all other positions.

Employees are placed based on skills, knowledge, and their prior years of experience. Lateral transfers are available.
Shift differentials are paid for evening (5%) and overnight (6%) hours.
Education stipend provided — $1,000 annually for employees with an Associate's degree, and $2,000 annually for a Bachelor's degree.
Additional stipends are provided for Communication Training Officers (CTO) and career development program participants.
Requirements and Disqualifiers

Must be at least 18 years of age
Must have a minimum of a high school diploma or GED
Must pass an extensive background investigation, including a medical (hearing) exam, drug screening, and psychological assessment
Must be a US citizen or legally authorized to work in the United States
Must either possess or obtain a Virginia driver's license
Prior felony or misdemeanor conviction will be evaluated on a case-by-case basis
Training

The Training Division's Mission Statement is to engage, educate, and empower recruits from all backgrounds to develop knowledge, confidence, and competency to promote safety, health, and well-being in service to our communities as a valued team member and Public Safety Communications Officer.

From the first day, we engage with our new co-workers and empower for success as a valued member of our agency. Communications Officer Recruits are educated through an in-house academy comprised of 480 hours or 12 weeks of classroom training that covers:

Basic communications
Agency policy and procedures
Stress management
Computer Aided Dispatch (CAD)
Phone procedures
Geography
Priority Dispatch Emergency Medical Dispatch certification
Priority Dispatch Emergency Fire Dispatch certification
Priority Dispatch Emergency Police Dispatch certification
VCIN/NCIC certification
CPR certification

Included in the academy phase are two weeks spent on the communications floor with a certified training officer. During this time, recruits will begin answering emergency and non-emergency calls. Once this period of OTJ (on the job) training has occurred, the recruit will return to the classroom for additional skill building and classroom academy curriculum. Utilizing this phased training approached is formatted to build confidence in newly acquired skills.

Our academy is just the beginning of training. After classroom completion, a recruit is assigned to a platoon and placed with a Certified Training Officer (CTO). This begins a 3-weeks of OTJ training. During this phase, recruits answer emergency and non-emergency calls while being monitored by their trainer and receiving a daily report of their performance. Upon successful completion, the recruit moves on to the mentoring phase. During mentoring, new call-takers are no longer continuously monitored but have an assigned mentor from whom they can seek assistance. During this phase, they receive weekly reports on progress and performance. When a recruit displays competence in their call-taking skills, they are released from the mentoring phase and work with their platoon under general supervision.
Charlottesville & Albemarle County
A great place to live and work
When you work for the Charlottesville-UVA-Albemarle ECC, you have the opportunity to serve and live in a thriving region, known and loved for its art, music, food, recreation, and rich history. Browse to visitcharlottesville.org to learn more!